Manufacturing excellence
Resinit's main process is manufacturing, integrated into a production system that is developed to handle complex machined components and assembled products. The business is designed to efficiently handle a large number of customers with a variety of types of article and batch sizes. Through transparent management systems, we maintain a high focus on reliability in terms of quality, delivery and sustainability.
Customer process and RFQs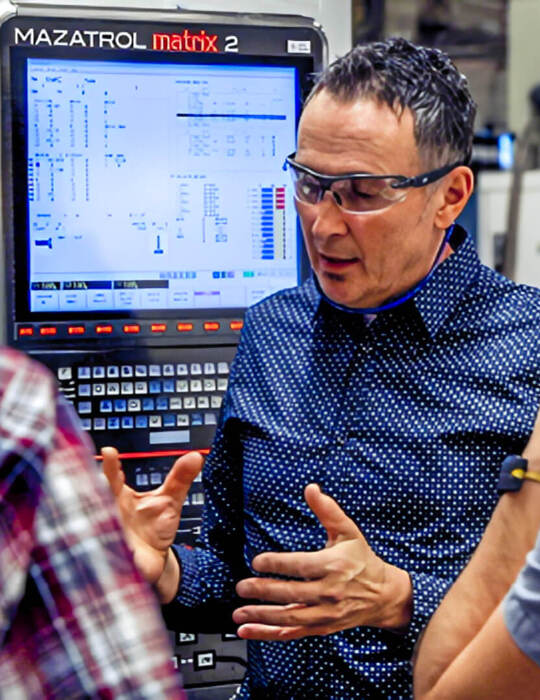 Customer process and RFQs
Customer requirements, "Time to market", utilisation of our knowledge and resources in collaboration are important factors for success
In our customer process, your inquiry or idea is managed in a structured flow, where needs, requirements and options are analysed. Based on the analysis and the scope of the inquiry, the inquiry is managed in a cross-functional machining team who collaborate with you as a customer. Here is your sales contact at hand together with Resinit's expertise and experience to offer the most sustainable and efficient solution.
Choice of materials and advice
Feasibility, optimizations and suggestions.
Advanced CAD/CAM machining, simulation
Tests, prototypes and preproduction
Purchasing and subcontract services
Management of customer and industry specific requirements
Project participation, project management
The process ends up in our offer to You, including any suggestions, optimizations and potential risks, as well as ready-to-start documents to be able to execute orders with a short lead time.
Input data: Drawings (2D and 3D documentation), customer standards, volume requirements and lead times. By participating in establishing the product's eventual application (product knowledge), Resinit is better placed to develop the best solution for you.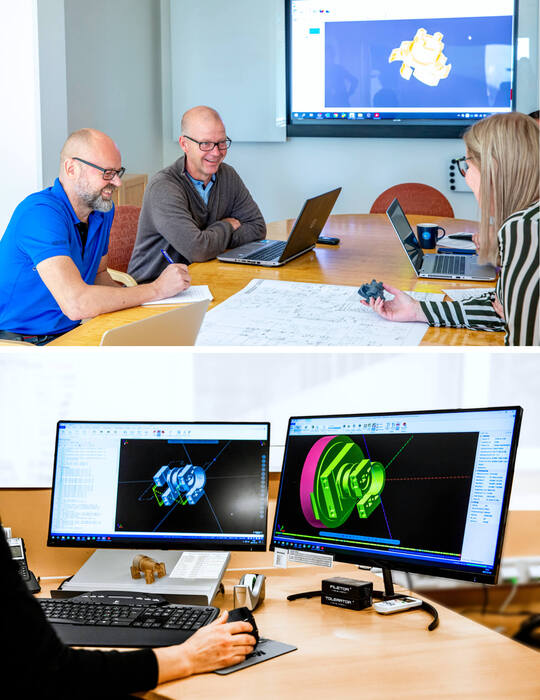 Process development team
Resinit's process and project team interlinks the steps between market, purchasing and manufacturing, with the ability to handle complex products and projects. Resources from Resinit can also participate in your project and in this way provide added value for you as a customer.
The team is involved early on from the inquiry, draws up and develops manufacturing documentation, programming, participates in test runs, verification and approval. All steps well-defined and with access to competent resources and powerful tools.
Resinit's best practice & know how.
Knowledge of materials and manufacturing methods
Zero-error strategy and robust quality
Project management
Production technology machining and development
Management of customer requirements, industry requirements, standards
Changes with traceability (change control)
Purchase of components and contract services
Logistics and packaging methods
3D CAD modelling and CAM machining
Access to networks within the XANO Group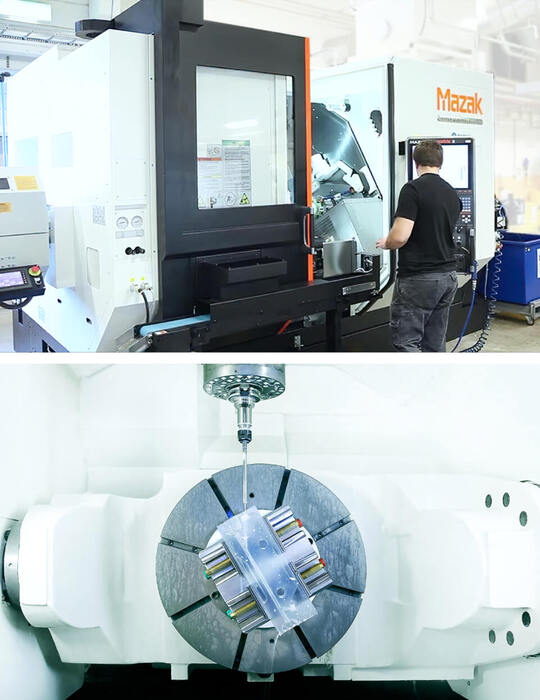 CNC machining
The fundamental part of Resinit's value creation is the CNC machining of polymer materials (engineering plastics). With an integrated CAD/CAM solution, technical resources with trained and experienced operators, we can meet your current and future manufacturing requirements.
Resinit's machining resources includes CNC machining centers with simultaneous 3 to 5 axis machining and multi-operation lathe in different configurations from 4 to 9 axis. CNC machining centers are equipped with both robot load and unload together with pallet feeding as well as manual load and unload. Our lathes are all equipped with bar feeds and driven (rotating) tools.
For you as a Customer this means, among other things, you get:
Ability to manufacture complex components
Done in one concept
Complex curved surface machining
High speed machining
Precision and accuracy
Flexible and efficient production
Cleanliness of components and articles
Stable process capability
Meeting customer and industry specific requirements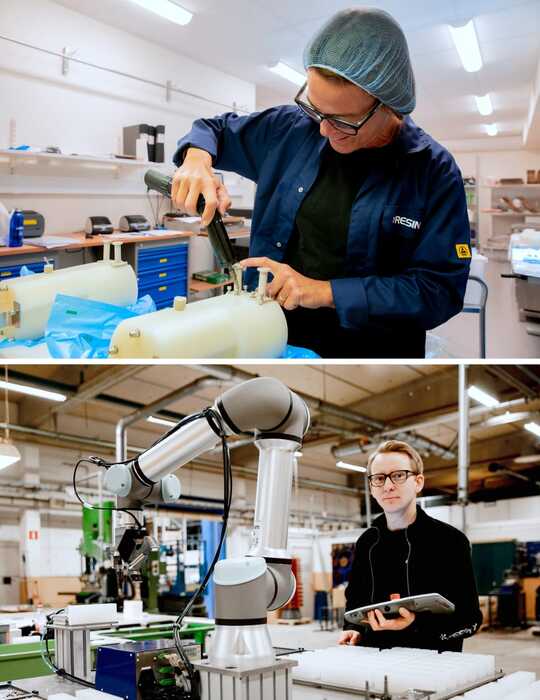 Postprocessing and assembly
Value-adding operation steps so You as a Customer can be offered reliable turnkey solutions from the same supplier. Logistics become simpler and the product can be immediately used in your production or application.
From tumble finishing and washing, purchased components and contract services to assembly in different environments. The ability to provide full traceability and documentation through all operational steps based on customer and industry requirements.
Tumble finishing, washing and packing
Gluing in a controlled environment (temperature, humidity)
Assembly in different environments:

Workshop environment
Cleaner rooms (hepa filter, ESD, ventilation with overpressure)
Clean room ISO class 8

Measurement and monitoring of particle contamination
Measurement and monitoring of microbiological contamination

Ability to assemble larger series with a collaborative robot
Marking with laser, engraving, needle embossing, etc
Inspection and deburring in a video microscope
Verification and testing
Leakage test
Storage and co-packing (kits)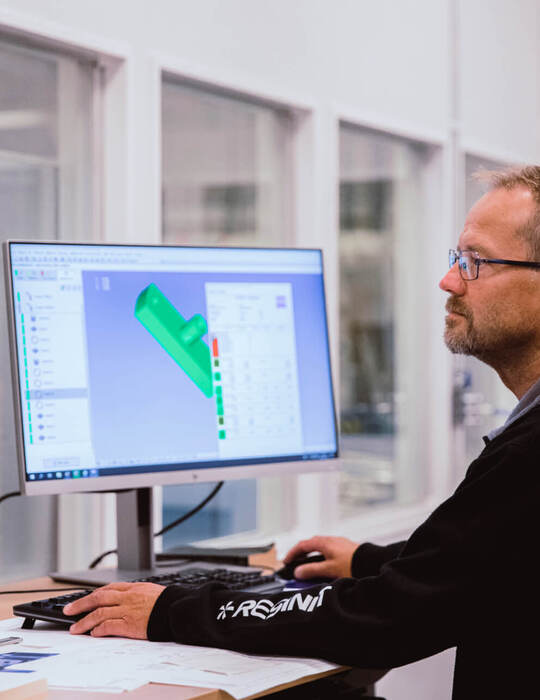 Quality and measurement data
Measurement rooms with a controlled climate are an important part of Resinit's resources for verification of product quality and product development. Reliable measurement data and continuous verification provide security from project start to project delivery.
Resinit measurement technicians support the organisation with expertise in measurement and participate in, among other things:
Outcome test verification, documentation and measurement protocols
Continuous production measurement
FAI (First Article Inspection) and PPAP
Evaluation of critical measurements, capability, etc
Calibration and measurement system analysis
Problem solving and improvements
We use two types of measurement machines, contact/scanning measurement (Zeiss CMM) and contact-free optical measurement (OGP) as well as a large variety of measurement equipment, devices and gauge tools.
Logistic and LEAN daily management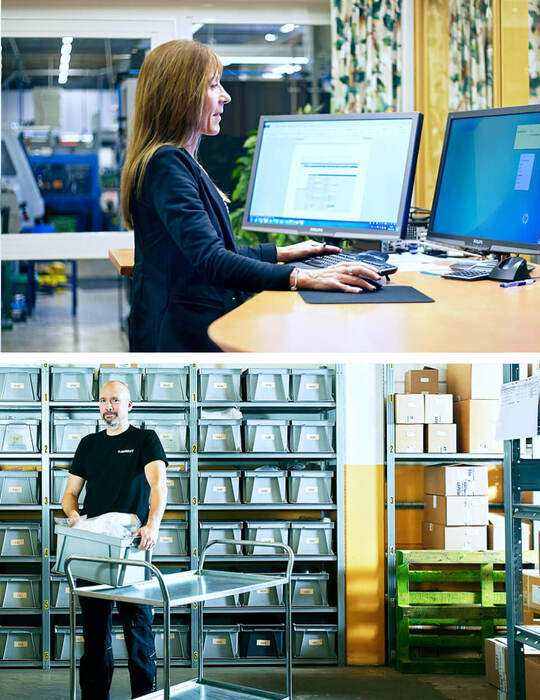 Efficient Logistics
Customised order processing, warehousing, packaging and delivery provide efficient logistics for you as a customer.
Resinit's business system is the hub of the business from which order processing, purchasing, manufacturing, delivery notification and invoicing as well as administration take place.
Resinit can handle delivery plans and orders via EDI, email, letter and, website. With the business system we can take care of order processing, notification and invoicing via EDI.
Packaging on delivery is adapted according to the requirements You as a Customer set. Resinit can, for example, help to develop designed interiors for your product for optimal transport safety or for specific needs such as ESD requirements.
In the event of a need for short lead times and flexibility, we can agree on stocking semi-finished products and/or finished items. Delivery can be made according to agreed delivery terms and delivery methods. We can handle most existing forms of transport via our business system.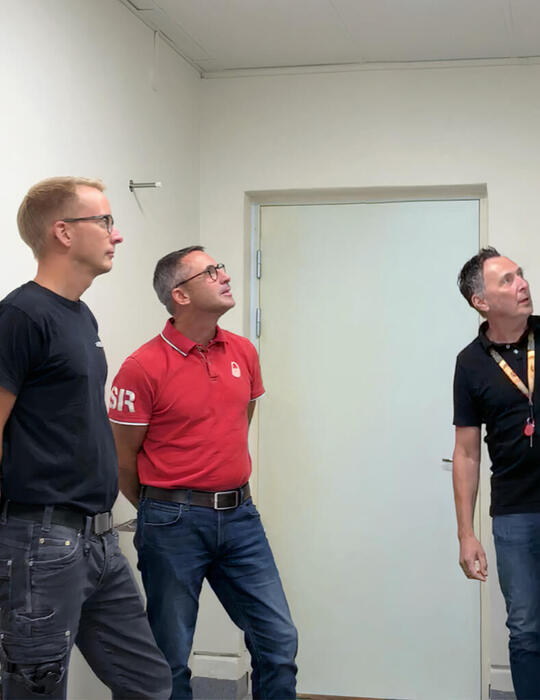 LEAN Daily Management
Resinit LEAN daily management contributes to a sustainable business and supplier to You as a Customer.
Resinit has a well-implemented approach to working with daily management. A data-driven and transparent information systems are the central part where customer focus and performance of Resinit's different processes are monitored.
The monitored processes result Is a fundamental part of promoting awareness, prioritising and managing resources to achieve customer satisfaction and improving the company's processes.