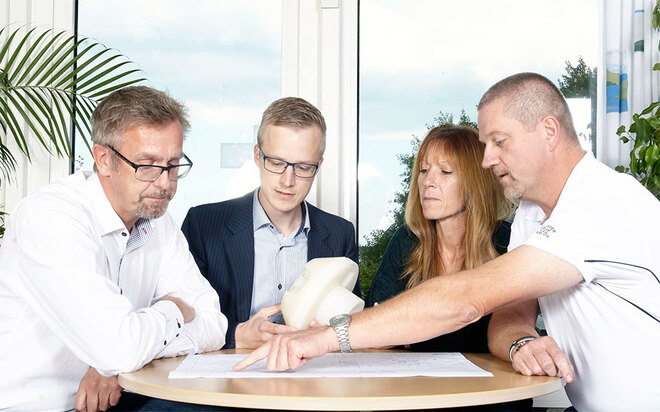 Project Management and Preparation
Thorough preparation and expertise in materials and production technology pay good dividends, financially and technically.
Project management is a major shared task where we get involved in your development work and become a natural partner, which saves time and effort for you in your own projects.
Our sales personnel are used to assisting customer projects. We genuinely enjoy developing items with customers and finding optimal solutions.
In addition, we have many resources for preparation in our production department. We have dedicated production coordinators in milling, turning, assembly and quality technology.
Preparation takes place in several steps. Is it feasible to manufacture the part in question? Can it be simplified? Is the choice of materials optimal? Our powerful CAD/CAM system facilitates analysis and programming.
We discuss these issues with you, the customer. Well-organised preparation results in a safe process, the right cost and preparatory documentation when manufacturing is started.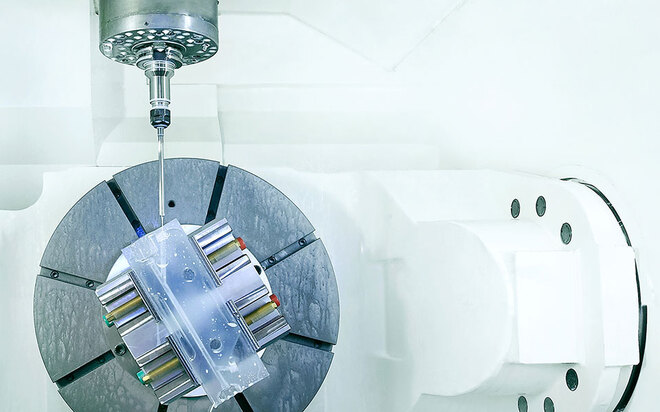 Production
Quality-conscious personnel with good knowledge of plastic materials and production technology provide the basis of efficient production.
Resinit has made a conscious decision to only process thermoplastics and thermosetting plastics with its machines. Items for medical technology and high voltages must not have any metal contamination whatsoever.
We specialise in machining plastics and items in materials that are challenging to machine, with high demands on surface finish and small tolerances.
Factors that differ between machining plastics and metals are, above all, cutting data, tools, clamping and cooling methods.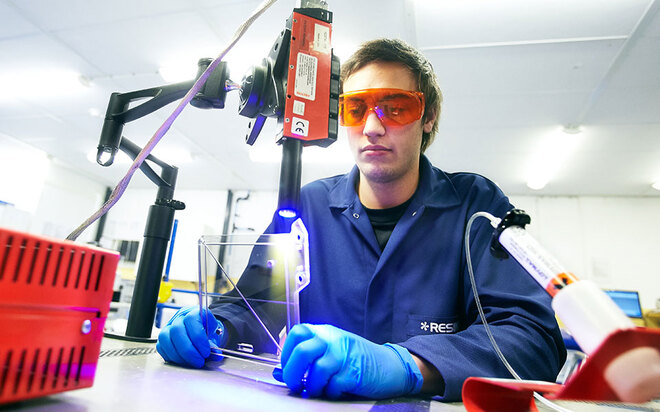 Assembly
Cleaning, bonding, assembly, marking and testing are some of the processes we carry out in our assembly department. This provides you, the customer, with logistical advantages.
Assembly is not simply bolting parts together. We must check that everything is assembled correctly using the right materials in the right steps etc.
Our "Jeeves" ERP system simplifies purchasing procedures. It may be a question of materials from your selected suppliers, or the use of our network of most services and products.
Assembly and several other processes take place in a specially cleaned environment. Airlocks with clothes and shoe routines and filtered air are standard.
As a customer, you must be able to use the product immediately in production without any uncertainty.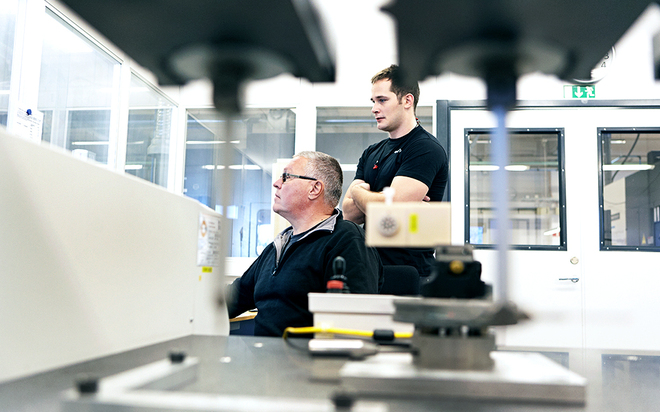 Quality
A quality-consciousness from supplier to the finished product ensures high quality and low environmental impact.
Resinit works in accordance with the process-controlled quality system ISO 9001:2015, and uses Bureau Veritas as its auditing body. The Jeeves ERP (Enterprise Resource Planning) system is used throughout the company. This provides full traceability.
Two people make independent first-item-checks to track down any errors at an early stage. A large part of our quality work is archiving certificates with summaries of information.
The measurement room is also a partner for corrective measures, in case any errors should occur despite all preventive efforts.
The number of external complaints received is extremely low. Measurement reports for outturn samples or repeat orders are provided by agreement.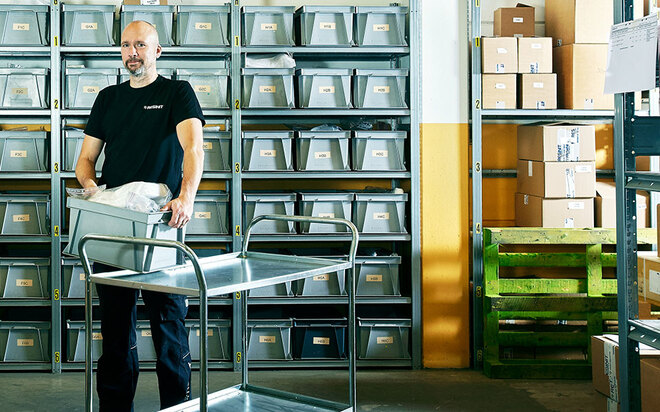 Logistics
Customized packaging and delivery provide efficient logistics.
We handle delivery plans via fax, e-mail, letter, website and EDI. For efficient logistics we use the Jeeves ERP system. Notice of delivery and invoicing may take place through EDI.
We undertake to deliver and pack the number of items that suits each customer. Spare parts kits are typical products in this context.
To shorten lead times, we can undertake to stock finished or semi-finished components in different variants for customers' agreements.
The type of packaging used for delivery depends on each customer's requirements. Specially designed packages can be produced for optimal transport security. Electronics equipment often has ESD requirements for the packaging materials.
We are able to handle almost all modes of delivery with our ERP and EDI systems.